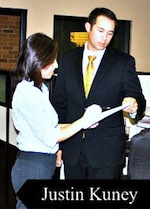 Bankruptcy Lawyer Justin Kuney, Professional Debt Relief Services Chapter 7 and Chapter 13 Bankruptcy
Bankruptcy Lawyer | Tax Attorney Sacramento
Our law firm has helped thousands of people get a fresh start.
Let us help you press the reset button on your debt today!
Chapter 7 & Chapter 13 Bankruptcy allows you to press the reset button on your debt and start over with a clean slate. No longer hide from creditors, bill collectors, judgments or the IRS. Our attorneys know that life happens and that bankruptcy with the right lawyer will protect you in your time of need.
Don't wait, many times our clients cost themselves thousands of dollars by not taking immediate action and not formulating a detailed plan to deal with their debt.
Let us end your creditor calls, discharge you debt and fight for you in court so you can move on with your life with the fresh start you need.
Client Feedback
"Now I can put the past behind me and restore my credit worthiness. Attorney Debt Reset proved that there is life after bankruptcy." -M. H. K.
Affordable Attorneys in Sacramento Here to Help
At Attorney Debt Reset we make it easy for you to become debt free. Our bankruptcy attorney fees are low and our attorneys are well trained in the most effective debt relief methods around. Together we will discuss your options to create a plan of attack that will get you out of the red and into the black. This plan may include debt settlement, debt consolidation, foreclosure mediation, tax settlement, bankruptcy or a combination of these methods.
Don't Let Creditors Push You Around. Contact our bankruptcy lawyer in Sacramento at 1-877-273-7383.
Affordable Bankruptcy Attorneys in Sacramento
Don't let creditors, debt collectors, or the IRS push you around. Our attorneys will stand up for your rights to help you avoid foreclosure or repossession. Moreover, we will help you stop IRS seizures, wage garnishments, and bank levies.
Creditors may be unlawfully harassing you – be assured that we aggressively pursue creditor misconduct. The best part is that you may be eligible to receive thousands of dollars in damages for their unlawful behavior. We can help you stop creditor harassment and understand how to know if you are being harassed.
There is hope. With the help of our Attorneys, your new beginning is just around the corner. We understand what you are going through, which is why we are committed to helping you build a better tomorrow for you and your family. But building a better tomorrow starts with taking action today.
Contact a Bankruptcy lawyer at Attorney Debt Reset now for a free evaluation with one of our experienced debt relief attorneys and leave your financial problems behind you. You can call us at 877.273.7383 or complete our online contact form.
We help people file for bankruptcy relief under the California Bankruptcy Code.
our lawyers at Attorney Debt Reset handle cases throughout the entire state of California:
We have successfully completed thousands of bankruptcy cases, many of which have been handled strictly via telephone for clients from all over California. You can trust in our A rating with the better business bureau (BBB), and from what our former clients have said on our testimonial page, that your experience with our firm will exceed your expectations-whether it be in person or by telephone.
We handle every case with diligence and care. Sacramento bankruptcy attorney with extensive experience in finance & protecting consumer rights
This This bankruptcy attorney is an "A" Rated Member of the California Better Business Bureau
Local Contact Centers
Attorney Debt Reset – Arden Arcade Location
Yuba City Bankruptcy Attorney Debt Reset – Free Bankruptcy Lawyer Consultation