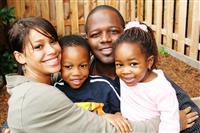 Steve, I am definitely going to report this company to the FBI thanks for looking into this matter and for providing me the information on how to report the scam.
I feel much better now, this person put a little fear in me, I honestly thought that someone was going to make an appearance at my job to harass & embarrass me. You just made this all go away.
My sincere THANKS!! , you have provided me with such "Awesome Service". I'm very happy that I selected Attorney Debt Reset to represent me I don't know what I'd do without you guys.
R.A.
---
I turned to attorney debt reset at a time when I had a lot of difficulty going on in my life. They took one of those difficulties out of my hands and for that I will be forever grateful. The entire bankruptcy process went very smooth and the entire staff was very professional and helpful. I would recommend Attorney Debt Reset to anyone considering filing for bankruptcy.
Thanks!
P.R.
---
I would like to extend a personal "Thank You" to you for not making me feel like a complete loser. The decision to file for BK was a really hard choice to make because I have never been in this situation before. I have always followed the rules….graduate from HS, finish College (although it took me five years) get a job and PAY your bills!! I guess life doesn't always turn out the way you think it should. Anyway, I appreciate all you and your staff did to make this as pain free as possible. Best Wishes to you and your team for continued success!
K.A.
---
For the first time in my life I was facing what appeared to be an insurmountable financial set back, I turned to Attorney Debt Reset, and received excellent support and services throughout my bankruptcy. Now I can put the past behind me and restore my credit worthiness. Attorney Debt Reset proved that there is life after bankruptcy.
M. H. K.
---
To Whom It May Concern:
I would like to thank everyone at Attorney Debt Reset for being so personable and professional. Through the whole process they were caring and understanding. I never once felt like I was a number being pushed through the system. They were always quick to respond to my phone calls and my emails. This type of Customer Service is very unusual these days. I want to commend the staff for going that extra mile to reassure the client that they are in good hands. I will make no hesitation when referring this amazing group of professionals to my friends and family.
A.K.
---
The term bankruptcy scared me before I met with the Attorneys at Attorney Debt Reset. I always thought that bankruptcy would have a devastating impact on me and my family. Attorney Debt Reset quickly put my worries and fears to ease by explaining how I could keep all of my property, while legally getting rid of my debts. Further, they took the time to answer all of my questions in language that I could understand. Filing for bankruptcy is the smartest financial decision I have ever made, and now I am able to focus on rebuilding my wealth and credit without the stress or harassing creditor calls. My kids tell me every day that I've changed; and they are right I have. I haven't been this happy or stress free in a long time. Thank you Attorney Debt Reset.
V.R.
---
What I liked about Attorney Debt Reset, is that I got to speak to an actual Attorney. Before coming to Attorney Debt Reset, I had interviewed a few other law firms around town where I was only allowed to talk to a paralegal. I wanted to use a law firm that showed me they cared enough about me and my case to allow me to speak to an actual Attorney. That's why I chose Attorney Debt Reset, and I am glad I did. They did a tremendous job on my case, and now I am debt free and best of all I have my life back.
C.R.
---
Hi Jeremy,
Thank you so very much for the information. I appreciate everything you have done for me and my family. God Bless ya, and I will refer anyone I know in financial difficulty to you organization.
Take care too, L. C.
---
Barney,
My husband and I discussed it and we would like to amend it into our plan. Could you let me know when my amount goes up? Barney I would like to thank you and Jeremy for everything you have done for my husband and I.
D. W.
---
In 2006 I was injured at work and, subsequently, lost my job due to that injury. Needless to say, my finances abruptly became a mess. I didn't know what to do or where to turn. In 2007 I considered bankruptcy but was afraid to due to all the ads on tv and the radio warning people about how difficult it is to do now, how it most likely isn't a good option, etc . I also had heard horror stories friends of mine who had filed and had nightmares with their attorneys and the whole process. I contacted Attorney Debt Reset and, right from the first moment, I felt comfortable with the advice I was given. Attorney Jeremy Winter seemed very knowledgeable and gave me different options. He did not pressure me and, from what he told me, I even decided to hold off — I thought that maybe I could still make it without filing. In 2008 I decided it was time to file. Attorney Debt Reset made filing as easy as it can possibly be and the entire staff was right there with me at every twist and turn of what seemed like a complicated case to me. Not only are they friendly & knowledgeable, but they are easy to get a hold of. In the rare case that I did have to leave a message, someone got back to me with answers right away. They "held my hand" through the entire process until I finally got through it near the middle of November. My case was discharged and I am now on the road to financial recovery. Filing Bankruptcy, through Attorney Debt Reset, was the best thing that I could have done. I have been recommending them to all of my friends and family.
T.A. -2008